A thousand smart possibilities.
Out of the box.
Imagine being able to read out and control all parameters of your process from a central system location. Independent of your components' manufacturer, the arrangement of line elements or even not yet digitized line elements?
Without cabling, without complex PLCs? And from anywhere in the world?
You think that is impossible?
Then get to know Aucos Sense now! The smart data acquisition system for your line that can be connected to almost any sensor and is able to send your data wirelessly to the cloud and thus also to your smartphone or tablet. Scalable, modular and compatible with all line types.
Smart line monitoring has never been so easy.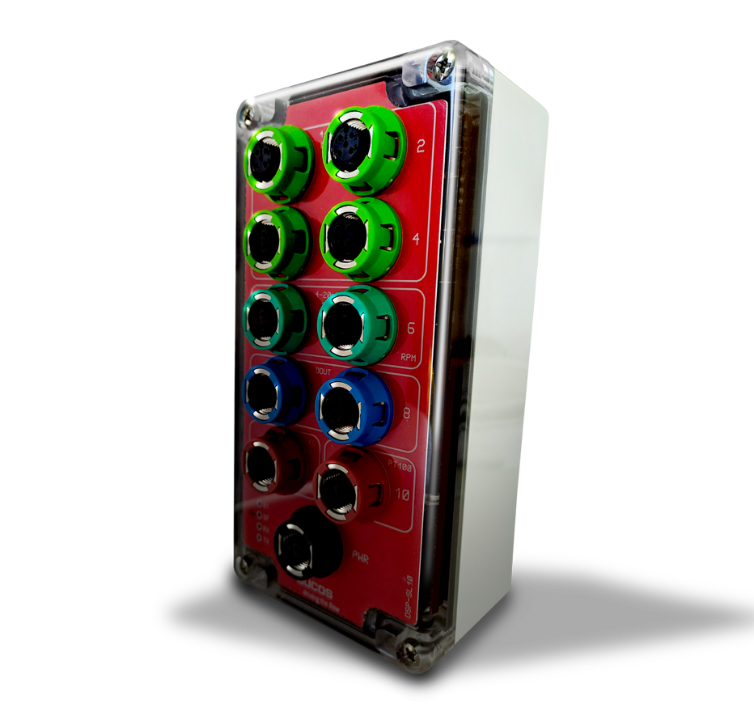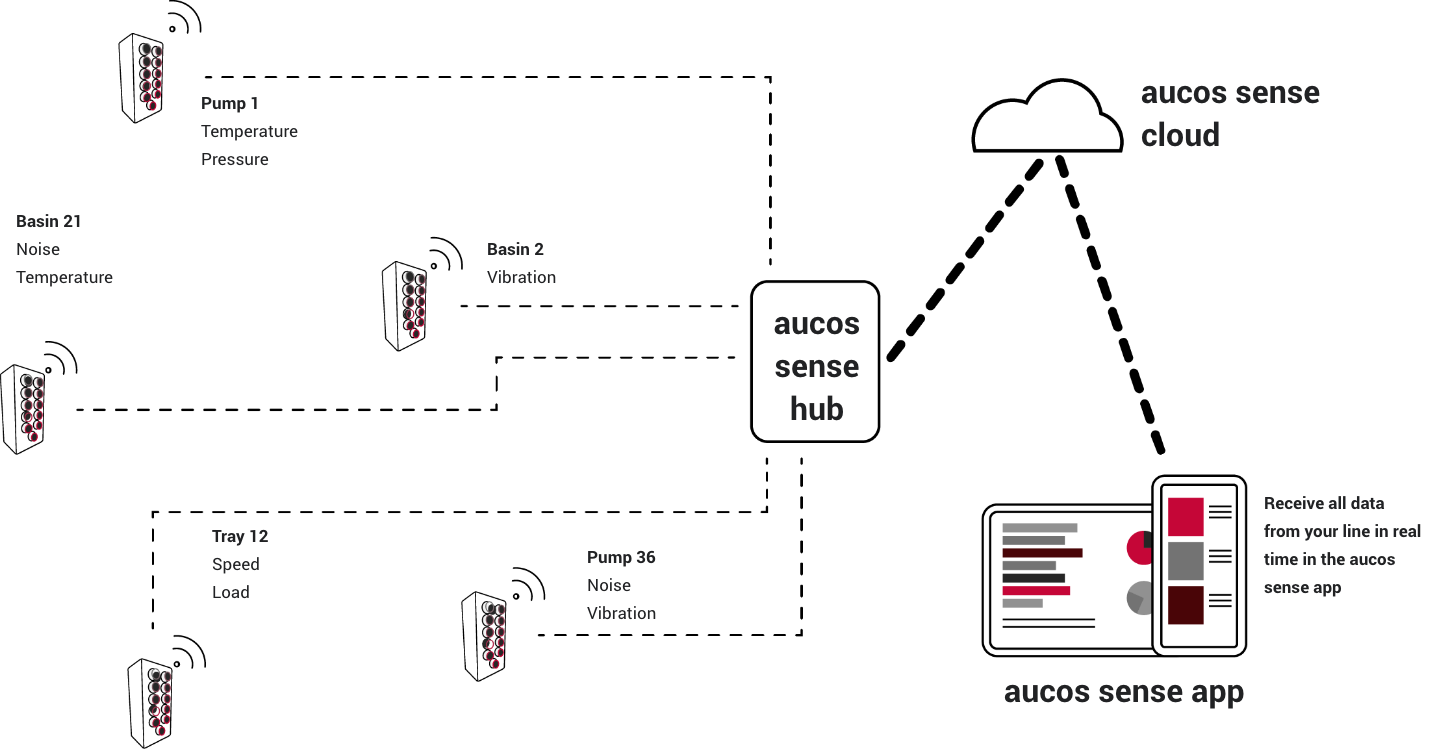 Flexible. Expandable. And extremely smart.
Aucos Sense is the cloud-based solution for universal measurement data acquisition for your line with the goal of transparency, data logging and proactive maintenance.
Get familiar with the functions of BigData and create a mobile data base for your logs with Aucos Sense. With minimal installation effort through our digital wireless technology, you are able to monitor all parameters of your process globally and mobile – an unprecedented transparency advantage. Your other applications are integrated via the Aucos Sense API and together provide a complete digital overview.
Make your line smart. As easy as that!
All elements from a single source.
The entire Aucos Sense infrastructure consists of three perfectly matched omponents: Aucos Sense Cube, Aucos Sense Hub and the Aucos Sense App. Thanks to this modularity, the system grows with your requirements and is easily expandable; and this with minimal maintenance and installation costs.

Aucos Sense Cube
Available in different versions
analog inputs, optional 0-10V, 4-20mA
analog inputs for temperature detection, Pt100 sensor / NTC sensor
digital inputs 24V, also with counter function 1000Hz
vibration sensor
relay outputs, 24 Volt, 0,5A
analog outputs 0-10V
sampling rate 1 reading per second for all inputs
Wireless communication on 2,4 GHz (connection to hub)
Encrypted data communication
Power supply 24V, current consumption 200mA
Protection class IP65
Plug&Play installation
Aucos Sense Hub
Wireless Hub for communication with up to 32 Aucos Sense Cubes
Multiple hubs can be combined
Data buffering over 24 hours
100 Mbit Ethernet interface (connection to the cloud)
Wireless communication on 2.4 GHz (connection to the Cubes)
Encrypted data communication
Power supply 24V, current consumption 200mA
Protection class IP65
Plug&Play installation
Aucos Sense App
Web App for Android and iOS
Two-factor authentication
Device overview with device icons
Operating hours logging
Maintenance system
Measurement curves with limit value monitoring and alarm message
Site plan
QR code scan function
Alarm function via SMS or email
System configuration and Aucos Sense Cube configuration of measuring points
Coupling to sales databases in the cloud
Encrypted data communication
Fast. Secure. Reliable. The Aucos Sense Cloud.
The Aucos Sense Cloud is the heart of the Sense system. Store captured data encrypted in the cloud located in Germany and access it quickly and securely anywhere in the world.
Fast

Fast
Sampling rate for all inputs 1 sec.



Live access to all values


Secure

Secure
Redundant data backup



Data archiving up to 30 years (optional)



Encrypted data communication



Data storage for Europe in Germany, for the USA in the USA


Reliable

Reliable
Extremely high availability



Individual database per customer



Capacity of 1000 cubes/server


Nehmen Sie Kontakt auf
Wir haben Ihr Interesse geweckt? Perfekt! Schreiben Sie uns oder rufen Sie uns an, wir geben Ihnen gerne weitere Details zur Zukunft des Anlagen-Monitorings.

This form is currently undergoing maintenance. Please try again later.